Get Well Flowers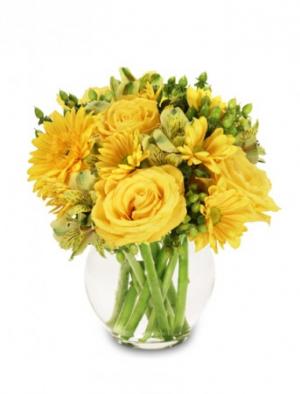 Sunshine Perfection
Floral Arrangement
Talk about a ray of sunshine! This bunch of yellow roses, alstroemeria and gerbera flowers in a simple vase is a burst of happiness. Let this flower arrangement spread some sunshine to the perfect people in your life.
Hospitals and Health Care Providers in Our Delivery Area:
---

Name
Address
Phone

---

Hospital
1200 Providence Rd Wayne, NE. 68787
(402) 375-3800
Oaks
1500 Vintage Hill Dr Wayne, NE. 68787
(402) 375-1500
Wayne Care Ctr
811 E 14th St Wayne, NE. 68787
(402) 375-1922
Hillcrest Care Ctr
702 Cedar Ave Laurel, NE. 68745
(402) 256-3961
Pender Care Ctr
Rr 1 Box 110 Pender, NE. 68047
(402) 385-3072
Pender Community Hospital
Po Box 100 Pender, NE. 68047
(402) 385-3083
Prairie Breeze Assisted Living
1 Mazour Drive Pender, NE. 68047
(402) 385-2088
Colonial Manor Of Randolph Inc
Po Box 67 Randolph, NE. 68771
(402) 337-0444
Wakefield Health Care Ctr
306 Ash St Wakefield, NE. 68784
(402) 287-2244
Wisner Manor
1105 9th St Wisner, NE. 68791
(402) 529-3286
Whether you're under the weather or down in the dumps, FLOWERS & WINE has just the cure! Flowers never fail to lift spirits, and who needs it more than someone sick? Let us hand deliver your special Get Well gift to any local hospital or home. Get Well Soon gift baskets are also available and are great snack items for those who need their bedrest. Need to send flowers to a sick loved one out of the area? Give us a call, we can do that too!